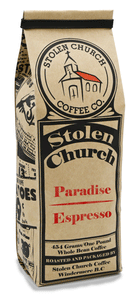 One of our most popular blends. A perfect blend of Sumatra, Ethiopia and Brazil beans. Roasted medium.
Makes the perfect espresso, great crema and sweet not bitter or sour.
We also love putting this one in our brewer, makes a great full bodied cup of java.
Fresh is Best!!  We roast per order so you get the freshest beans possible!!